Across the Pond
Well I made it to Scotland and back in a one week whirlwind trip.  It has truly been a week to remember full of remembrance, family and friends.  While I spent most of the week tending to family duties, I did get some spare moments to spend soaking up some of my favourite things in Edinburgh.  Strolling down Princes Street, having a pint with my dad on Rose Street (I had diet pepsi lol), and visiting some of my favourite shops.  Oh an quite a few football games were watched as well, along with a new episode of Skins (the original, not the US remake which in my opinion doesn't hold a flame to the original).
I am lucky to have spent just over a year of my life living and working in Edinburgh.  It is really an amazing city with the charm of the castle and the old town steeped in history.  I arrived on Sunday amid the chaos of the Scotland/Ireland rugby match.  The business of the streets is something to behold.  While it was a short visit, my highlight of the week were definitely:
The Scottish Gallery of Modern Art: I didn't have the chance to take a tour this time around, but the first evening when I looked out the window of the flat I was staying in I was greeted with the following display:
Birmingham beating Arsenal 2-1 in the league cup!
Shopping at River Island – by far my favourite high street shop where I purchased, amongst other things, this adorable little bracelet: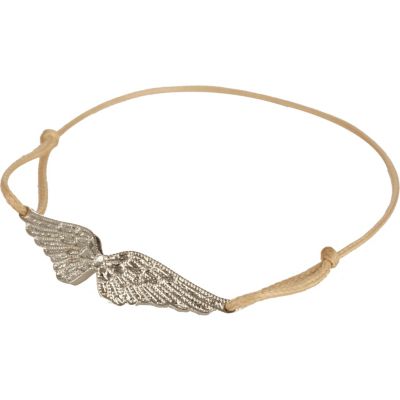 Reading all the weekly news mags articles about the Royal Wedding… did you know it is to be a national holiday?!?
Spending time with my Dad in Scotland (I have always traveled with my Mom when I went with one of my parents)
Marmite flavoured crisps,
Ribena,
And last but not least, everyone laughing at how I say Tomato, bangs instead of fringe, and three-thirty instead of half three : )
I can't wait to visit again under happier circumstances, but until then I have the memories of this trip, fun with family and good times with great friends!